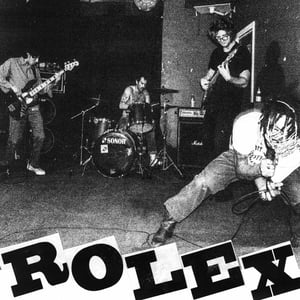 $

8.00
Coming in from California, ROLEX returns with their debut 7 inch offering now on 11 PM RECORDS. Vicious and untamed; Rolex has created a new breed of hardcore punk that is true to their LA roots, with influences from JFA and Mystic records; but contains the same poison that is behind DIE KRUZEN and CHEETAH CHROME MOTHERFUCKERS. ROLEX is far from your average mindless hardcore punk and brings in riffs and songwriting which owes as much to THE MINUTEMEN as it does surf rock; all with seething lyrics of vitriol and poetry. These ten tracks were previously released on 5 cassingles (R-O-L-E-X) and are now re-recorded and compiled on a 7 inch. ROLEX fuses art and hardcore together in a way not heard before and is truly worth a listen.
Should ship within two weeks
ALL ORDERS ARE AUDITED AND ANY HIGH SHIPPING CHARGES WILL BE REFUNDED.